Reynobond - Reynolux
Interior
Description
The most commonly used thickness of Reynobond panels for interiors is 3 mm. The panel weight is 4,5 kg/m2.
Arconic Architectural Products is a subsidiary of Arconic. Arconic employs over 42,000 employees in 25 countries that produce and distribute products ranging from composite material for the commercial buildings market to an array of multi-material products for the aerospace, automotive and other industrial markets.
AAP operates two manufacturing facilities, located in Eastman, Georgia, USA, and Merxheim, France. Both facilities have supplied quality products and outstanding customer service to the building and construction industry for more than 30 years. In 1989, the Eastman facility inaugurated the Reynobond® brand Aluminum Composite Material production line, and also produces Reynolux® metal wall panels, flat sheet and coil. Our Merxheim facility has built an excellent reputation with the production of Reynolux coil-coated aluminum — and began operation of its own state-of-the-art Reynobond production line in 2000. In 2007, the Merxheim plant also began operation of a new, high-speed coil coating line capable of painting multiple paint systems in widths up to two meters wide.
Reynobond® composite panels consist of an extruded thermoplastic compound core that's fusion bonded between two sheets of coil-coated aluminum, brushed aluminum, zinc, stainless steel or copper material. The result is a highly corrosion-resistant, rigid-yet-flexible material that weighs 3.4 times less than steel and 1.6 times less than pure aluminum. Reynobond composite material is exceptionally flat, daringly formable, surprisingly light and distinctively colorful. It integrates easily with the curtain wall, creating a seamless look for façades. And its extreme formability makes it ideal for curves and unique design accents.
Reynolux® flat sheet is ideal for trim, brake enclosures and other applications used in conjunction with Reynobond®. It can also be paired with Reynolux profile panels to create attractive, yet affordable, designs. Reynolux coil is available for large-scale applications that demand an affordable, durable solution with precise color matching. From 2-coat and 3-coat (XL) systems to metallic and mica finishes, we can produce Reynolux flat sheet in virtually any color. A variety of other coatings are also available to meet your special requirements. All Reynolux finishes are applied in a continuous coil-coating process to ensure uniform color. These coatings provide excellent flexibility and film adhesion for forming and offer superior resistance to humidity, impact, salt spray, pollution, abrasion and graffiti. In general, the Reynolux Flat Sheet & Coil façade material consists of dense aluminum sheets with 1.97 mm thickness and a fire rating of A2. The other subdivision of Reynolux is the profiled panels "Profiled Metal Wall & Roof Panels".
Fire Resisting composite panels
Reynobond
Reynobond® Architecture aluminium composite panels with A2 core:
Reynobond® Architecture with A2 core is a composite panel consisting of two coated aluminium sheets that are laminated to both sides of a non-combustible core. It meets the stringent fire-reaction requirements of the European fire certification EN 13501-1, class A2 while offering an unlimited creative freedom in terms of transformations, applications, designs and colours. Reynobond® Architecture with A2 core is the ideal solution for facades and roof cladding because it shows improved performance against fire:
Limit fire spreading on facades and roofs
Prevent propagation of toxic fumes
Avoid droplets falling from facades and roofs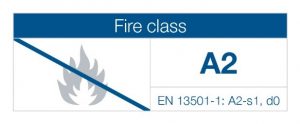 Reynodual
Reynodual double sheet aluminium panel – Non combustible A2:
Reynodual® – The first coil-coated double sheet aluminium panel.
Reynodual® prepainted double sheet aluminium panel is a new type of product. It is a coil-coated double sheet aluminium panel for facades with high technical, visual and environmentally-friendly requirements. It offers the possibility of creating complex shapes for an attractive and creative appearance.
Consisting of two aluminium sheets bonded together with a total thickness of 3 mm, Reynodual® prepainted double sheet aluminium panel guarantees good wind resistance and meets the stringent fire-protection requirements of EN-13501-1, class A2.
This makes it ideal for facade projects such as:
High-rise buildings
Industrial buildings
Public buildings
Tunnels, stations, subway stations
Airports
Hotels, hospitals, shopping malls
Stadiums, event halls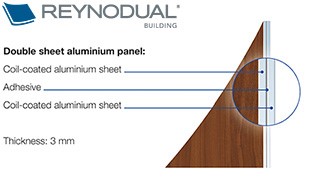 Building high – Thanks to fire class A2.
Reynodual® prepainted double sheet aluminium panel meets stringent fire-resistance requirements (EN 13501-1, class A2-s1-d0). In case of fire it is not combustible and shows no active participation. No toxic gas is getting out, either in case of fire or during the lifecycle. It doesn't interfere badly with the environment.
Thanks to the panel thickness of 3 mm, Reynodual® prepainted double sheet aluminium panel guarantees higher wind resistance and is thus ideal for high-rise buildings.